FAQ's (Frequently Asked Questions)

1.) I need help with Online-Ordering from Clips4Sale.
Click here: HERE
2.) Can I order DVD's direct from you?
Yes, you can order all of my DVD'S directly from me. Please email me at : info @ madame-catarina.com
3.) If so, how can I pay for them?
You can pay for them via transfer with PayPal, or, by your own risk, by mail to my Post Box:
MC Berlin, PF 191448, 14004 Berlin

4.) Can I send you my script?
Yes, I can read your script and suggestions, but I cannot guarantee that it will be made into a film.
5.) When I order a DVD from you, how will the packaging look?
All DVD's will come in plain neutral packaging, with only my P. O. Box as the sender.
6.) I would like to film my session for my own personal use. Is this possible?
For an additional cost, this can be done. However, I need your written agreement, that you will not make
copies of the material, or in any way make it publicly accessible.

Madame Catarina
Bewerbung @ Madame-Catarina.com
www.madame-catarina.de
www.MCinema.de
www.Domina-movies.de
MC Berlin
PF 191448
14004 Berlin
Germany


FOR LADIES

Are you looking for a Professional Film Team for your film ideas, or, tap into our technical expertise?
Do you need assistance in making your film available in the Marketplace?
Are you looking for unusual locations to film?
Do you need a professional and highly skilled cameraman?
Do you need help in producing a website for your films?
We can offer support and assistance for all your questions, in order to take your idea from the planning stage to the publication stage. We will work with, and for you, in this matter. Contact us at:
info @ madame-catarina.com
FOR SLAVES
Would you like to take part and participate in complex film productions, yet, be aware, that this is professional filmmaking, and not a studio session?
Do your inclinations, desires, preconceptions, as well as level and style fit well with me, as a person, and my past productions?
Click HERE for more information, and apply in writing to: bewerbung @ madame-catarina.com
VOD - Video On Demand
(Easy Downloads in High Quality. An alternative to DVD's and Clips)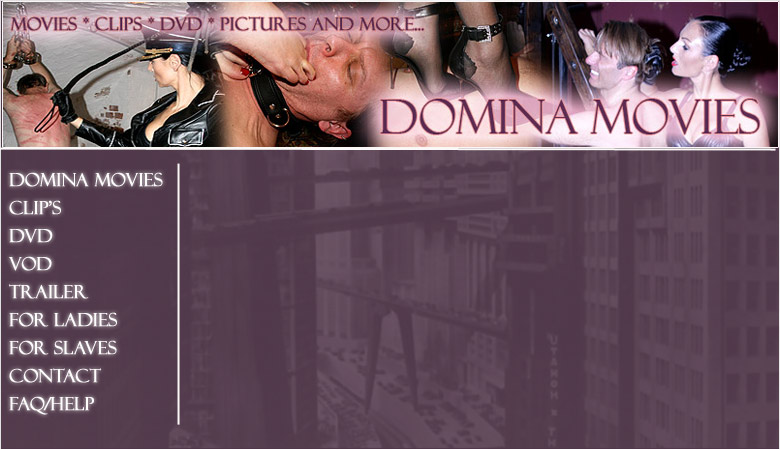 DOMINA MOVIES

DOMINA – ursprünglich (lat. domina) die beherrschende Rolle der Ehefrau im altrömischen Haushalt, aber auch Frauen, die gegen Entgelt Femdom-Praktiken anbieten
Quelle: Wikipedia
MOVIES - Plural, motion-picture theater; movie theater [Am.] Quelle: Beolingus
______________________________________________________________

Domina Movies , the film production company of Madame Catarina, offers you in loving detail, bizarre films, whose scripts place special value and emphasis on outfits and locations. You will find not only the bare essentials of SM-practices being filmed, but more complex and extensively prepared film scripts. We set ourselves off from the masses, by entertaining you with high levels of fantasy, details, style, and glamour

The main points of our Productions are Corporal Punishment, Nylons, Foot, High Heels, and Boot Worship
Enter Domina Movies and let yourself be captured into a world of Bizarre Film Production's

Madame Catarina

DVD's

From my new Productions of "MCinema" you can order a large selection of DVD's

MADAME CATARINA'S MCinematec

New DVD's
"Boudoir Punishments"
"Lawyers Lipstick "
"Training day for a slave Husband"
Our DVD archive: Madame Catarina - Femdom Cinema

Discretion is important to us and therefore you receive your DVD order in a simple plain envelope to your house.
Otherwise, you can pick up my DVD's in person at the Ars Vivendi Shop at:
Friedrich-List-Str. 9a
Gewerbepark Welschingen Haus 4
78234 Engen-Welschingen
Tel. 07733/5053-0